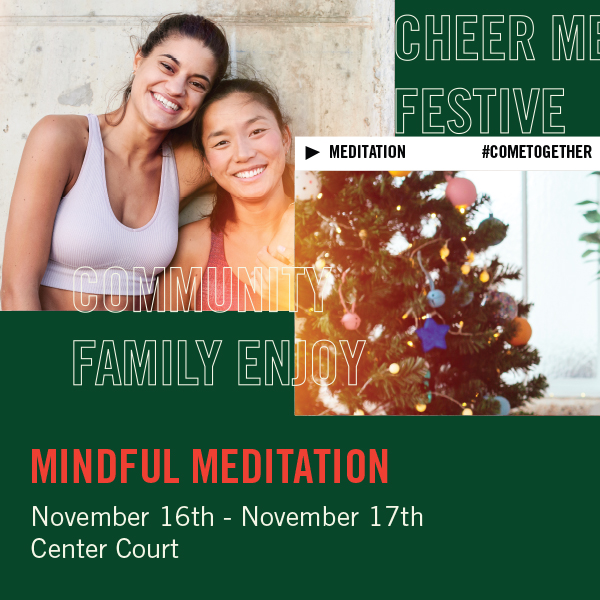 Mindful Meditation with DOSE Yoga
Nov 16, 2021 - Nov 17, 2021
11:00 am - 05:00 pm
Join us for a Mindful Meditation with DOSE Yoga + Smoothie Bar! 
Class times: 11am, 2pm, 5pm
Feeling the holiday shopping stress? Let us help you find your zen. Join Emily Wallace owner of Dose Yoga and Smoothie Bar for a seated stretch and guided meditation.
Text to enter to win a 10 class pack to DOSE Yoga Studio and Smoothie Bar, meditation pillow from Tuft & Needle, and $75 gift card to luluolemon.
This event is in partnership with Tuft & Needle.
Bio for Emily : Dose founder Emily Wallace was a college student in Raleigh NC when, on a whim, she took a hot yoga class for the first time; it ended up changing the course of her life. She got hooked pretty fast and dropped out of college to start yoga teacher training. After earning her RYT 200, the Belmont, NC native began working as an instructor at different studios before co-owning two well known hot yoga studios in the Triangle area. Looking for a change of pace and during the pandemic, she spent a year in Washington, DC. Today, with a love of yoga in her bones and a decade of teaching and business ownership under her belt, she's back in Raleigh serving up her very best...Dose Yoga + Smoothie Bar.
Yoga it-girl, Emily Wallace, brings a new way to sweat and refresh to Raleigh with DOSE Yoga Studio and Smoothie Bar. At Dose, we believe balance is bad ass and we are here to help you find yours. Down Dog to our Down Beats while our top notch instructors guide you through your practice. Whether you want to strengthen your core, stretch past some stress, or sweat through a flow, you will leave class more energized and ready to refuel at the Dose Elixir Bar. At Raleigh's first hot yoga studio and smoothie bar, pick your potion of real ingredients and natural adaptogenics that will enhance your mood, adapt to stress, and keep you balanced.